---
iBook Clamshell Defekte: Teil 4 - DC in Board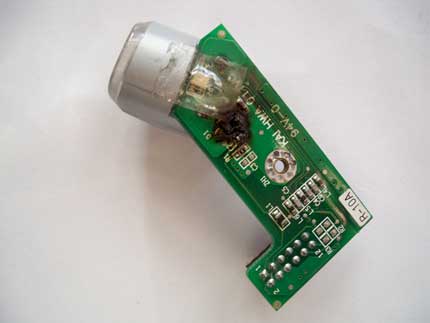 Das auf das Logicboard gesteckte Stromeingangsboard (DC-in board) ist eine häufige Fehlerquelle wenn das Clamshell iBook keinen Strom mehr annimmt oder ein Wackelkontakt vorliegt.
Im besten Fall ist nur ein Lötkontakt durch die häufigen Ein- und Aussteckvorgänge gebrochen. Dieser Fehler lässt sich verhältnismäßig leicht beheben ->Link.

Read more...
iBook harddisk swap quick and dirty
There is a much more easy way to put a new harddisk in your iBook Clamshell - only 19 screws which takes only 8 min 17 seconds (without time to re-assemble)
The trick is to remove the screws in the region where the HD is located and bend the EMI shield in order to fish the HD out.


Read more...
Quotations
Leaving the cafe table, carrying the iBook by the built-in handle, it became obvious there are some Very Clever People at Apple: half a dozen people stopped to ask if this blue thing with the big Apple logo was, in fact, the new Apple laptop. Nobody asks if your black or gray box is a laptop, especially if it is hidden in a bag.

Washington Apple Pi Journal